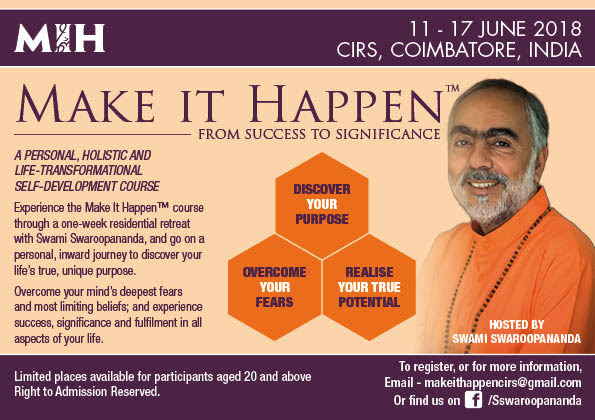 Make It Happen from 
11-18 June 2018
Do you want to maximize your true potential and live a life of significance, with external success in work and relationships, as well as inner fulfillment?
Make It Happen is a course designed by Swami Swaroopananda, which presents the timeless knowledge of vedic scriptures in a practical and personalised way. During the course Swamiji helps attendees explore and uncover:
What do you want to Make Happen? Gain direct insight into your unique nature and how to align and make career choices that maximise your potential.
Why can't you Make It Happen? Identify and overcome the barriers which are consciously and sub-consciously limiting you in achieving your goals, particularly with relationships.
How to Make It Happen? Learn a powerful toolkit for life – to make better decisions, fulfil your professional potential and have happy, lasting relationships while living a life with meaning, purpose and depth.
This is a unique opportunity be directly taught and personally guided by Swami Swaroopananda, spending one-week in a small group immersed in pristine nature in the heart of south India. Attendees from previous years have benefited tremendously and gained life-changing breakthrough.
Dates: 
Monday 11 to Sunday 18 June 2018
Location: Chinmaya International Residential School, Coimbatore, India